Moving Checklist
Make Your Move EZ
Whether you are moving into a new home or apartment across town or across the country, the key to a stress-free move is organization. We've created a handy moving checklist for Boston residents that will help you throughout your moving process from the planning stage to moving day. Our moving checklist not only provides important "to-do" tasks before you move, but also gives helpful tips and tricks along the way, gathered from experienced moving company professionals. For even more tips for moving to Boston and storage, check out our Facebook page and blog.
Click to Get Your Moving Checklist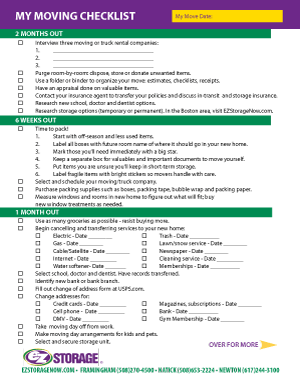 Need storage during your move? We have three convenient West Boston storage locations.