Tips for Moving with Kids
Moving can be stressful for adults, but it can be especially tough on kids.
Kids love routine and familiarity, so moving can be a bit scary because it disrupts those things. However, with the right strategy, moving with kids can be stress-free and even fun for them.
We've helped many families through their moves over the years. We've learned what can help make moving with your family a lot easier.
Here are 8 of our helpful tips for moving with kids.
1. Make A Moving Week Schedule
Planning your move will help reduce stress because it will ensure you don't forget anything important. When you are moving with kids, make sure to sit them down and include them in the process.
Let them know what will happen each day. You can even make a fun moving checklist to hang up so that they can track the activities with stickers. Including your kids in the moving plan will help them understand what to expect, reducing stress. It will also help keep your family on track.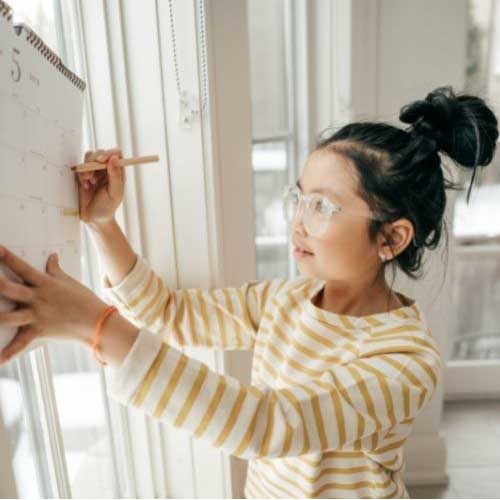 2. Plan Your Packing
A good idea is to make a packing list based on what you regularly use. Any of your belongings that you don't use regularly like your holiday and sentimental items can be packed first and taken to storage.
Things you use every day like your clothes and hygiene products can be packed last. Work with your kids to help them decide what of their things should be packed first and what should wait until last.
3. Start As Early As Possible
We've all been there. We think we have plenty of time until moving day, then we blink and it's already here.
This can be a huge hassle when it is just you and the moving company rushing around, but it can be extra hard with kids. The sooner you get started, the easier it will be when a move-out day comes.
Whether you are just moving next door or long-distance, moving with kids is easier if you can take your time. Get organized with a moving checklist to keep you on track so you can minimize the surprise and rushing.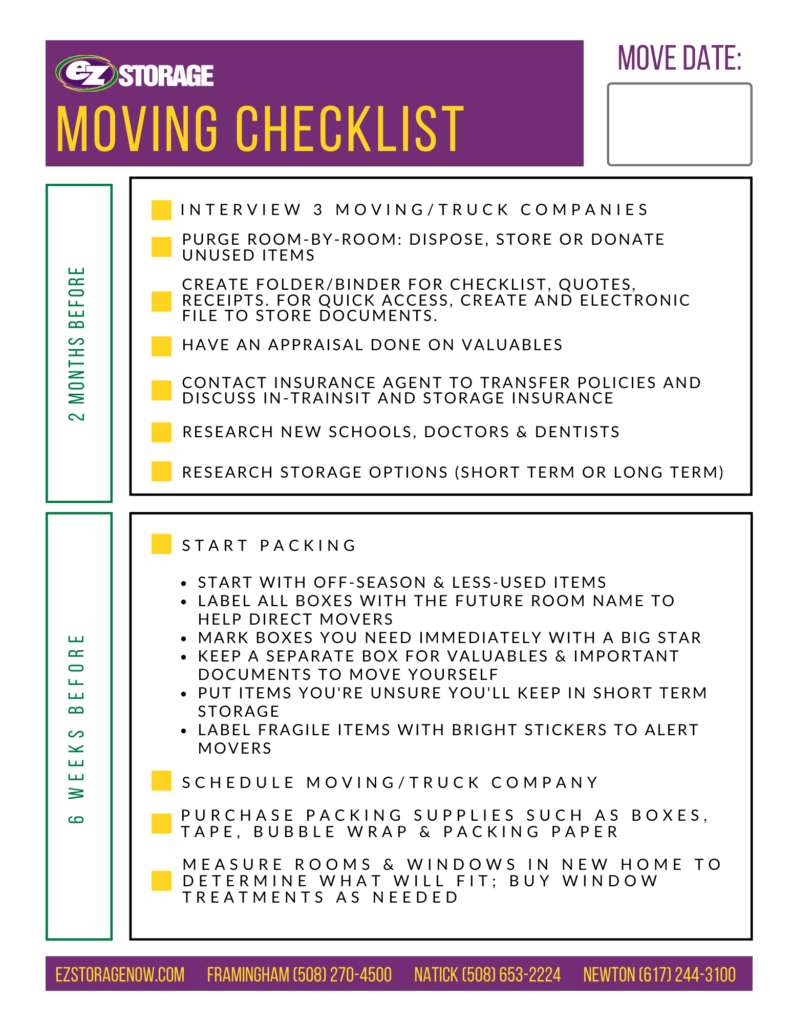 4. Create A Packing Game
Packing with kids can be hard because they get easily distracted. This is especially true when they are packing their toys.
To help make things easier, create a packing game to engage them in the activity:
have a race to see who can pack the most toys in a set time
have them pack a certain color like pack everything green
hide little candies around their room to find as they pack.
5. Color Code Your Boxes
If your kids are old enough to pack on their own, a great way to keep them on track is with color coding.
Pick different colors for different belongings. For example, blue for clothes, red for toys, and yellow for books.
This has the secondary benefit of helping the movers know where to put the boxes. It also makes it easier for children to unpack and put things away in their new room.
You can do this around the house too.
6. Decorate Your Moving Boxes
Speaking of color coding your boxes, decorating your moving boxes is a great way to keep kids busy while you get a lot of packing done and a perfect way to implement color coding.
Load up on packing supplies that are kid-friendly and fun. Grab things like colorful tape, fun markers, and stickers. Then put your kids in charge of decorating and labeling the boxes.
They'll be focused on their helpful arts and crafts project, while you get your household goods packed quickly.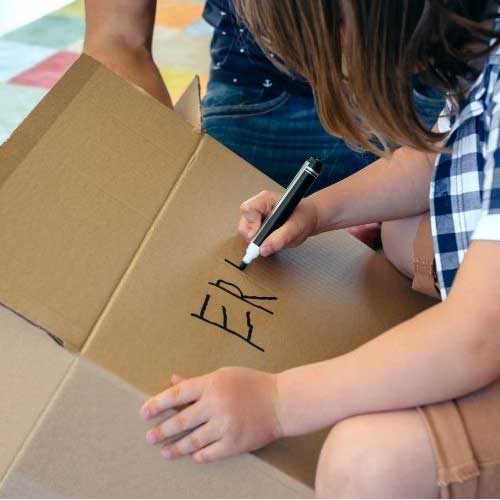 7. Schedule Some Kid-Free Time
Moving with kids can be a lot of added stress on parents, so make sure to also plan some time for just the adults.
During this time, you can pack all your fragile items, coordinate moving and storage, and really get some things done. It will also give you a break so you can make sure that you are staying on track and keep up your positive attitude.
Make it fun for you too by ordering takeout or food delivery while you pack.
8. Take Advantage Of Self Storage
Whether you are going to relocate across town or are planning an interstate move, storage is your best friend.
Having a storage unit can help you clear things out of your old home, giving you more space to work and keep things clean.
Putting things in storage will also help keep your littles from opening boxes and unloading everything you just packed. It's also a great idea to get storage if you are downsizing your space, renting, or are just not sure how you want to set up your new home.
Moving with kids can be a bit overwhelming. However, if you make a good plan, it can actually be a fun time for everyone.
At EZ Storage of Boston, we've helped families with everything from local moves to corporate relocation to international moving. We can help you!
Our modern storage facilities feature secure, climate control units in a wide variety of sizes. Your child's toys will be safe with us!
Contact us to get started planning your move, we'll be happy to answer any questions and ensure you get the self storage unit right for your family's needs.
---