Top Tips on How to Store a Car for an Extended Period of Time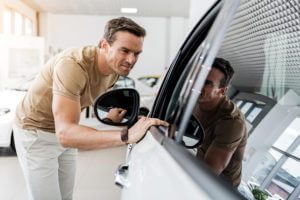 Storing your car sounds so simple. Put it in park and lock it up. However, as your car sits for an extended time period, lack of use and other factors can diminish your car's aesthetic and mechanical function. Here are the top tips on how to store a car long term.
Inside versus Outside Car Storage
Depending on your needs and preference, open-air, fenced car storage may be just fine. However, if protecting your car from weather, debris or the accessibility of others is important, you should definitely rent a storage unit that will keep your car safely indoors. Have a classic car? Indoor storage is a must and we recommend storing your car in a storage unit with climate controlled drive-up facility where the temperature and humidity are regulated no matter the season.
Accessibility
Whether you'll be storing your car for the season or if you have a work vehicle that you'll need to access daily, pay attention to these features and measurements at your storage facility:
•Driveway width – make sure you can come and go with ease
•Ceiling/door clearance – will your vehicle safely fit into the unit
•Entry threshold – to avoid under car damage to your muffler or tailpipe
The extra wide driveways at EZ Storage were created with our tenants' specific needs in mind. We aim to make your car, RV or boat storage as easy as possible!
Preparing for Long-Term Car Storage
When storing your car for an extended time period, it is best to either leave the gas tank full or drain it completely to minimize gas fumes. Many car owners disconnect their battery to preserve its life. If your car tends to have oil leaks, have a mechanic correct the issue as much as possible, then protect the floor of your garage or storage unit with cardboard to aid in clean up when you take your car out of storage.
Clean your car of debris inside and out, including food items that could attract pests. Finally, if you are storing your car outdoors protect it with a tarp to prevent tree sap, rain, snow and other environmental debris from accumulating.
Insurance
You may think that you only need insurance when operating your vehicle, but we advise year-round insurance for added protection. Your agent can work with you to reduce your coverage needs while you store your vehicle to help you save money. When renting a storage unit, keep in mind that your lease does not include insurance to protect your vehicle. Notify your insurance agent that you will be leasing a storage unit so they can ensure your coverage extends to storage.
Security
As you determine where to store your car long term, make sure the storage facility you choose has secured, gate-controlled access and the location and hours are convenient for you. For good measure, look at online reviews to find out their reputation in your community.
Take a look at EZ Storage reviews to see what our customers are saying about our Boston area storage facilities, then get our latest car storage coupon online!
---