What Fits in a 10 x 20 Storage Unit
What Size Storage Unit Do I Need?
Choosing the right size storage unit will save you money and keep your valuables secure. Finding the right size for your needs is easy with our helpful size guide.
Whether you are decluttering, renovating, or moving, one of the most popular sizes is 10' x 20'. 10' x 20' storage units are ideal for most residential storage needs. They are large enough to hold the most common household items and will hold up to 5 rooms of items.
If you are considering a 10' x 20' storage unit for your needs, here's everything you need to know.
What Typically Fits In A 10' x 20' Unit
10' x 20' storage units can hold about five residential rooms of storage space. Depending on the size and how you stack them, you can also fit around 250-300 cardboard boxes, making it a great option for small businesses with inventory or files to store.
Here is what will fit in a 10' x 20' storage unit:
Two full sets of bedroom furniture
A full living room set
A full dining set
Queen or King sized mattresses and beds
Large household appliances like refrigerators, washing machines, and furnaces
Couches, tables, and armchairs
Large outdoor equipment like riding mowers and small tractors
Office furniture and business inventory and storage
Patio furniture and outdoor equipment like grills
Small boats like kayaks and canoes
Cars, small trucks, and small SUVs, and small trailers
Exercise equipment like treadmills, ellipticals, and stair climbers
Motorcycles, 4x4s, and jetskis
10 x 20 storage units are ideal for moving. They are great for storing items between the sale of your old home and the closing of a new home. They're helpful for storing your household items during long-distance moves and military deployments. 10 x 20 storage units are also ideal for housing your possessions during a home renovation.

What Won't Fit In A 10' x 20' Self-Storage Space
Although our 10'x20' storage units are one of the largest units available, there are still some things that will not fit including:
Larger vehicles like big trucks and SUVs
Larger boats like pontoons, sailboats and speedboats
Larger construction equipment
For these larger items, you will need to select either our 10' x 25' or our 10' x 30' units to meet your needs.
Determining The Size Of The Storage Unit You Need
If you're not sure which sized unit will meet your needs, you can start by reading our guide to choosing storage unit sizes. The first step to determine your storage needs is to start by making a list of everything you need to store. Then you will measure each of the items you are planning to put in storage.
Storage units are measured in volume. So it would be 10' (width) x 20' (depth) x 8' (height) or 1,600 cu. ft. For each of your items, you will then measure the height, width, and depth. From there you can calculate if your items will or will not fit.
Keep in mind some packing strategies can help you save space in a 10×20 storage unit.
Strategic Packing Saves Space
You can get a lot of possessions in your storage unit if you are strategic. First, you want to make sure you are taking advantage of the height of the unit. Most storage units typically have 8-foot tall ceilings, the standard ceiling height.
Stacking can help you take advantage of the vertical space. Review your items and think about what items could be stacked on top of one another. A good option to help you stack is to purchase some stackable totes. These will protect your items while they are stacked.
Another option is to put in some shelving that can take advantage of the vertical space. Shelves don't just help you take advantage of the space, they keep your possessions organized and safe. Putting a shelving unit in your storage space is also a good idea for small businesses to manage their inventory or store documents.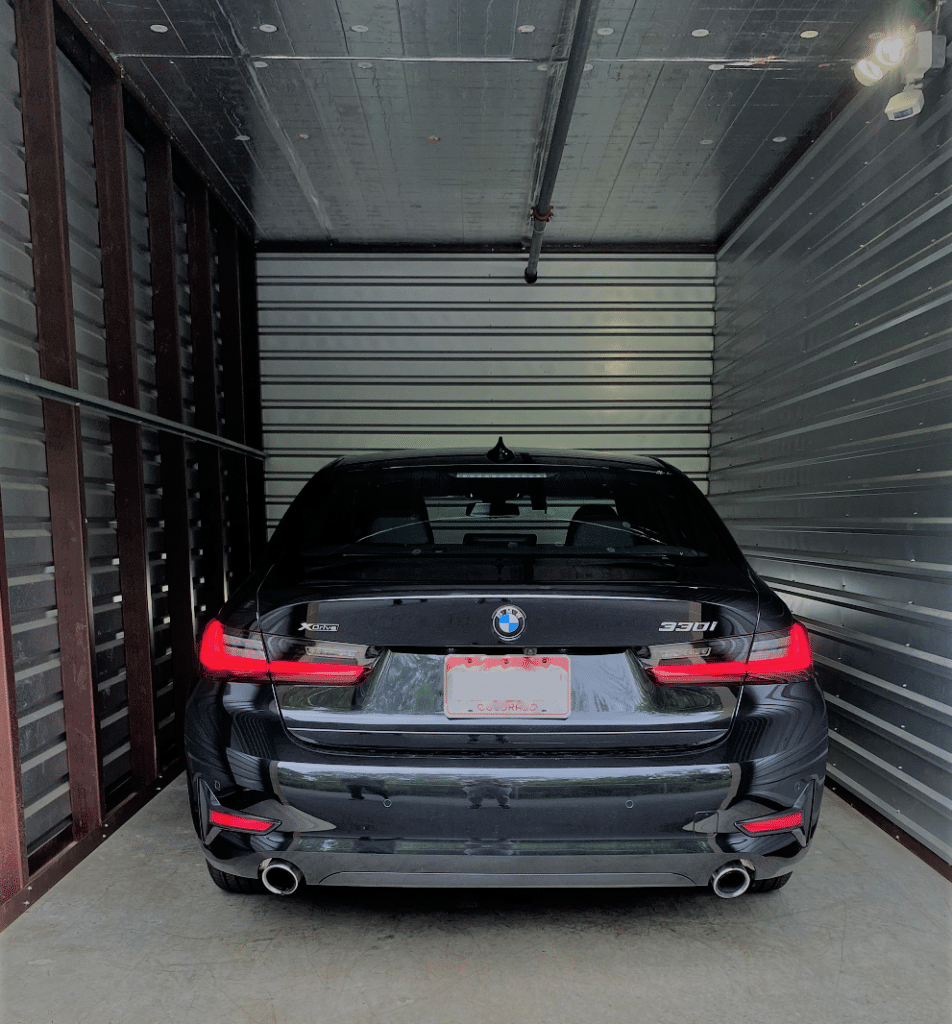 Organization Optimizes Your Storage Space
One of the best ways to take advantage of your storage space is by getting organized. Once you know what you are going to store, you should invest in some packing supplies that can keep you organized.
We recommend clear tubs and storage boxes. They help you see what you have stored. You also want to label all your possessions to make them easy to find. When placing items in your storage rental, think strategically.
The items you are most likely to access should be at the front and top, where they are easy to access. Those that you are less likely to access should be packed at the back and bottom where they are not in the way of the items you most often access.
Staying organized will not only help you save space, but it will also make accessing your possessions easier.
How To Find The Right Self-Storage Facility
Choosing the right self-storage company will keep your possessions safe. Look for a self-storage company that offers secure storage. They typically have security features like a fenced property that is well-lit, has controlled gate access, door alarms, and security cameras.
Another consideration is how long you need to store your items. If it's for the short term, look for a place that offers month-to-month lease options. This is also helpful if you need to upgrade your 10×20 storage unit to a larger storage solution or shrink to a 10 x 10 unit.
When you are ready to rent a storage unit, contact EZ Storage. With three convenient self-storage locations, we provide secure storage services for all your needs.
---