Travel Abroad Tips
How to Make the Most of Your Time Abroad
Planning to spend some time overseas this summer studying, working or traveling? Congratulations! You're about to have the experience of a lifetime. Since you're the type who'll cross an ocean in search of adventure, you should know that there are tried-and-true ways to ensure you find it. Read on for tips to help you deep-dive into the country and culture around you, and make the very most of your time abroad.
Research Ahead of Time
While there are major benefits to not over-scheduling your time, it's smart to do some targeted research beforehand. After traveling this far, it'd be a shame to miss something you're really interested in simply because it's closed or, worse yet, you didn't even know it existed.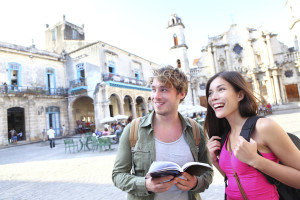 Eat Like a Local
No one will begrudge you a stop at that famous tourist restaurant, or even the Golden Arches for homesickness' sake. But generally speaking, for the most authentic experience, find out where the locals like to dine. Also, remember to ask your server to point out the popular dishes.
Slow Down
Of course, there's a ton to see. But consider the benefits of lingering and more deeply experiencing a place, versus checking off a list of sights, cities or countries that you merely whizzed through.
Shop for Necessities
The stuff of daily life is likely somewhat different here than back at home, so browse grocery store aisles and try out the local toothpaste, lip balm, snacks and more. You can learn a lot about a culture from its most popular conveniences, and maybe even find interesting and inexpensive presents for loved ones back home.
Walk Around
Whether you're ambling to the store or sightseeing, alone or with a friend or two, it's a great way to really soak everything in. Once you get your bearings, try different routes—keeping in mind that getting lost isn't always such a bad thing.
Speak the Language
You've heard it before, but it bears repeating: Attempt to speak the native tongue, even if "everyone" speaks English. Your effort is generally appreciated. Plus, the more conversational phrases you pick up, the more confident you become.
Put Your Phone Down
Although it's important to capture all you're experiencing through photos and to connect with the folks back home, make a point to tuck your phone safely out of reach from time to time. This will give you a chance to look around, interact with your surroundings, and simply be.
Make New Friends
Your host family, other kids in your program, the locals you come into contact with daily—all are people you could learn from. Don't be too shy to strike up conversations. Ask questions, and listen to the answers. The interesting people you meet generally wind up on your list of trip highlights.
Say Yes


Take advantage of every opportunity to step outside your comfort zone (while still paying attention to safety and your gut). Go to the festival. Accept that invitation to dinner. Try that strange-looking food or avant-garde exhibit. It's always better to give something a shot, even if it ends up not being for you, rather than spending a second thinking "I wish I would've" once you're back home.
STUDENT SPECIAL
Need a place for your things while you're off adventuring abroad? Contact EZ Storage for student special options to house your belongings until you return.
---