Top 4 Reasons to Finish Your Basement + Entertainment Ideas for Your New Space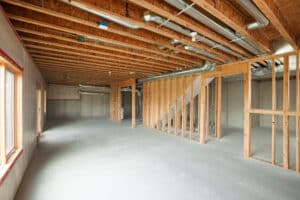 Have you ever asked yourself, "Should I finish my basement?" Learn some of the reasons why you should consider finishing your basement, and even get a few new entertainment (and money making!) ideas while you're at it.
Any time you maximize your finished square footage, your home increases in value. Finishing a basement is one of the best remodeling projects you can do to increase the value in your home — even more than remodeling a kitchen or bath. So, while basements are handy for storage and provide safety in severe weather, it may be worth the investment to turn yours into additional entertainment spaces for your family.
Besides the value a finished basement can bring to your home, here are a few other key reasons to consider:
Declutter Your Storage and Gain More Elbow Room
If you have a cluttered basement full of storage and lacking room in your main floors, you've probably already considered finishing your basement. A finished basement will add value to your home's appraisal in the future if you decide to sell, and in the meantime, it will give your family additional space to hang out. Plus, finishing your basement gives you the opportunity to create a dedicated storage space for your excess items — avoiding any potential clutter and stress.
Now is the time to finish your basement and take advantage of the extra square footage in your home!
Double your Entertaining Space — Basement Bar Anyone?
Your basement design can be purely chosen based on your needs and wants. The upstairs of your home provides the modern living space that's essential to any family, so the basement is a space where you can get creative. Create a basement entertaining space just right for your family — add a cozy kitchenette, a chic bar or a game night hideaway.
If your family lives for movie nights, a mini-home theatre will get a lot of use. If you like to host game nights, create a basement bar area with game tables to keep the fun going all night long.
If you want to maximize every minute you spend in your home, add a home office, gym or playroom for the kids (and all their toys). No matter your style, here are a few options to get you thinking:
Basement Entertainment Ideas:
Gaming space
Bar or second Kitchen
Playroom
Gym or studio space
Indoor, outdoor entertaining (if available)
Spa/sauna area
Movie theater
Home workshop/hobby area
Create a Guest Space
If you're frequently hosting friends and family from out of town, finishing your basement is the perfect opportunity to create a comfortable and inviting guest space. Complete your basement with a guest space that houses a bedroom, bathroom and even small kitchen and living area that they can claim as their own for a few nights. Many families now welcome their parent(s) to live with them as they age. So create a "mother-in-law" suite in the basement for a great way to keep family nearby while still maintaining privacy.
Earn Money by Renting Out Your Basement
Maybe you don't need the extra space in your home that a finished basement could supply, but you could use some extra cash. Of all the reasons to finish your basement, this money-making one is often overlooked!
Finishing the basement as a rental unit with a separate entrance could be a great way to improve your cash flow and help you pay off your mortgage sooner.
Pro tip: It's important to check with local codes, and make sure all work is permitted and inspected by local authorities so that you won't have any trouble securing a rental license.
Already Dreaming of Your Own Basement Entertainment Ideas?
When you're ready to take your excess storage out of your basement and put that space to use, give us a call. Even if you just need somewhere to house your storage during renovation — we've got deals to save your budget during the process!
EZ Storage has 3 convenient Boston storage locations near you:
Newton — Phone: (617-244-3100)
Natick — Phone: (508-653-2224)
Framingham — Phone: (508-270-4500)
---