Storage Advice for Studying Abroad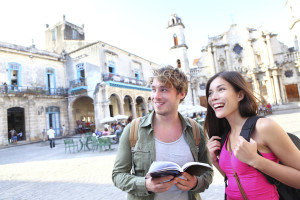 Studying Abroad This Summer? Here is some Advice!
Getting a global education through a study abroad program is a very rewarding experience for the lucky students that have the opportunity. It can also be a little stressful as you leave your family, friends and possessions behind while you travel. Here are our favorite tips on leaving the worry behind while you study abroad.
Protect your identity
By now you've likely made sure your passport and visa are valid for the duration of your stay and a few months after for good measure. You should also bring paper copies of these to keep separate from the official documents along with a copy of your birth certificate. To safeguard yourself, leave a copy of each document with a reliable family member or friend back home in case on or all of your documents are lost while you travel.
Bank online
One of the many benefits of the electronic age is the ability to access and monitor finances online and on apps. Be sure you enroll in automatic payments for any recurring charges for subscriptions, rent, utilities and loans so that you are not hit with late fees. Plus, you'll have one less thing to worry about while you learn and explore abroad.
Register for online account access for your bank account and credit cards so you can regularly monitor activity and transfer funds as needed. Notify your bank and credit card companies that you will be traveling abroad so they don't block or flag charges as fraudulent.
You've got mail
Remember to forward or put a temporary hold on your mail while you study abroad. Cut down on the amount of mail you receive by selecting e-delivery for monthly billing and banking statements, which is also eco-friendly! Contact magazine and journal subscription services to put a hold on your mailing or have the address changed to a friend or family member that would hold them for you.
A place for everything and everything in its place
Unless you still live at home, you likely have items you'll need to store while you study abroad. With many self storage units in Boston to consider, make sure you find one that offers you secure storage with gated entry for protection. Save on self storage costs by renting a unit with another student. If you have items that are sensitive to temperature and humidity changes, consider climate-controlled storage. Find a storage facility that can store your car to protect it from the elements (and eliminate the possible expense of parking tickets).
Student Storage Special!
Now that you are ready to leave the worries behind and get the most out of your journey, check out our latest Boston storage specials just for students!
---