Photo Storage
How To Store Photos
There's a reason you snapped that shutter to begin with—photos preserve our most precious memories. Whether your pictures exist in print or digital form, here's how to keep them organized, accessible and safe.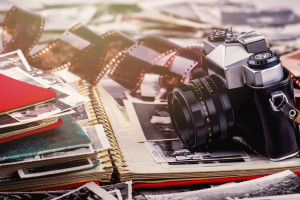 Choose albums wisely.
The old peel-and-stick albums and PVC plastic sleeves can damage printed photos. If you can remove them without damage, re-home them in archival albums, photo boxes or frames labeled "acid-free."
Consider climate.
It's a fact: Temperature extremes such as heat, cold, humidity or dryness, plus bugs, mildew, excessive light and more, can seriously compromise the life of your printed memories. Get them out of that musty attic, basement or garage and into your more climate-controlled main living space or a climate-controlled storage unit.
Upload digital photos regularly.
Write the task on your calendar—weekly, bi-weekly or monthly—as you would any other to-do. After you upload, go through and delete all but the very best shots. Don't let a huge backlog deter you. Start forming the monthly habit now and worry about organizing your backlog later. Baby steps!
Label printed photos.
Write dates, names and any place-setting stories and information on photo backs. This will help to jog your own memory and will inform future generations. Don't use ballpoint pens, which can damage photos. It is better to use photo-safe labeling tools, such as soft pencils or archival pens and markers, available at most art and craft stores.
Create hardbound books.
Instead of printing all your favorite photos, make themed hardbound books of your favorite shots, grouped by event or season. Lots of online sites make bookmaking simple. A few to check out: Mixbook, Shutterfly, Montage and Artifact Uprising.
Organize digital-photo folders.
Create a filing system that makes sense to you, such as chronological or themed. One popular style is "year-month-event": Year folders containing numbered-month sub-folders (i.e. 01 for January), containing event-named subfolders (i.e. Halloween). Use it moving forward, and work through your backlog in manageable chunks—say, half an hour a week.
Box photos up.
If organizing printed pictures into albums feels way too overwhelming, forget it. Instead, toss them into themed acid-free photo boxes labeled in a way that makes sense to you, such as "birthdays," "vacations" or simply the year.
Back up your backup.
Choose at least two places outside of your computer to store your photos, such as in prints, on a DVD or external hard drive, and online, aka The Cloud, via services such as Photobucket, SmugMug and Dropbox photo storage. Consider storing a set of DVDs or prints, as well as any heirloom photos, in a climate-controlled rental unit, for ultimate safekeeping. Contact EZ Storage to find out the best options for storing your precious memories—and more!
---