It's Your Move: A Checklist for Easy Moving
Starting fresh in a new home is definitely exciting. The physical act of moving, however, doesn't typically rank as anyone's favorite part of the process. Due to the amount of work involved and the chaos associated with it, moving can be stressful and overwhelming. A checklist can help minimize your stress, identify important steps, and help you avoid last minute headaches. From hiring movers to ensuring all your belongings make it to your new home with minimal fuss, moving checklists are a useful tool for planning and peace of mind.
Below is a checklist to help you with your move. Or visit our 'Moving Checklist' page to download and print the checklist off.
TWO MONTHS OUT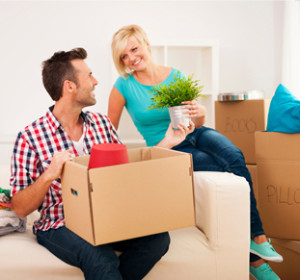 Interview three moving companies. Ask friends for referrals. Request on-site estimates, and get them in writing.
Start purging. Go through your home, room by room, and toss or donate with abandon.
Start a folder or binder for everything move-related—estimates, checklists, receipts and more.
Get any expensive items appraised, just in case.
Contact your insurance agent to get all of your policies transferred and to discuss in-transit insurance.
Research school, doctor and dentist options, if necessary.
Research storage options, whether temporary, to hold extra items as you show your home, or more permanent if you're downsizing. (Contact us for a solution that fits your needs.)
SIX WEEKS OUT
Start packing! Begin with stored, off-season and lesser-used items. Label all boxes with the room in which it should land, and mark those you'll need immediately with a big star. Keep a separate box of valuables and important documents to transport yourself. Set any items you're on the fence about keeping aside for short-term storage.
Select your mover. Get written confirmation of all details.
Purchase, order or start rounding up packing supplies such as boxes, packing tape, bubble wrap and any specialty packing items.
Take measurements at your new home so you can purchase window treatments, arrange or purchase furniture, and ensure larger items will fit.
ONE MONTH OUT
Resist buying new groceries. Try using up what you already have.
Begin cancelling services at your current home and making arrangements to set up service at your new one.
Make sure everyone has enough of any current medications. Identify new pharmacy, and transfer prescriptions.
Select school, doctor and dentist. Have records transferred.
Identify new bank or branch.
Fill out a change of address form at USPS.com.
Register a change of address with credit cards, mobile providers, magazines and other relevant parties.
Arrange to have Moving Day off.
Make Moving Day arrangements for kids and pets.
TWO WEEKS OUT
Check your packing progress and ramp up your efforts, if necessary.
Confirm details with the moving company and that the proper moving insurance is in place.
Email friends and family a moving announcement with your new address.
Properly dispose of any hazardous materials or electronics.
ONE WEEK OUT
Finish packing. Have one or two boxes ready for the final items you need in your old home (aka the first items you need in your new one).
Clean emptied rooms.
Start a packet of information, such as warranties and your new address, for the new homeowner.
Pack suitcases for each family member to live out of for the last few days in your old home and the first few in your new one.
Prepare any special payment requirements for the moving company as well as a cash tip for the movers—anywhere from $20 to $100 per mover.
Shuttle any lingering items to be stored to your rented space.
MOVING DAY
Ensure all boxes and items land in the correct rooms.
Carefully check the inventory and bill of lading before signing.
Start unpacking, and enjoy your new home!
Whether you are moving for the first time or consider yourself a moving professional, a checklist provides a step by step guide to walk you through the moving process. Utilizing this helpful tool or something similar will take the stress out of your next move, giving you more time to enjoy the adventure.

Click to Get Your Moving Checklist
---