How to Store Camping Gear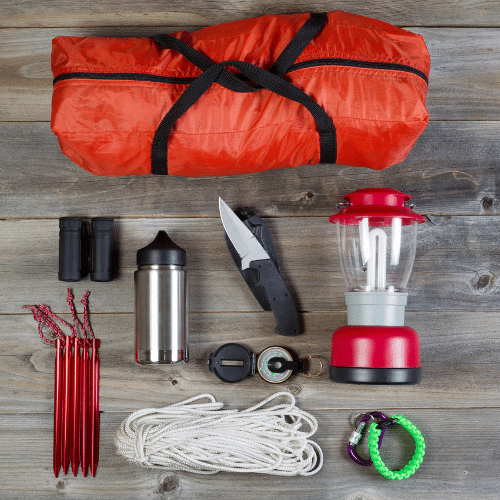 Have you ever found yourself frustrated looking and sorting through your camping gear for the first campout of the season?
When packing it all up last year, it was easiest to throw it in whatever open box or shelf you could find.
This year you promise you'll store camping gear differently, so you don't find yourself in the same position again next year.
Use this guide to storing camping gear to help get you started and keep you organized from spring to fall.
The first step is to bring all your gear together in one place to assess your storage needs and determine what should stay and what can go. Your camping gear likely includes:
Tents
Sleeping bags and foam rolls
Lanterns
Clothes
Chairs
Stoves/grills
Dishware/Camp kitchen
Cooler
Toiletries
Tarps
Hiking poles, oars
Organizing camping gear
Once you have it together in one place, the best camping gear organization strategy is to keep it together in one place, which will make campout prep much easier in the future.
Next, you'll want to sort your gear into different categories such as bedding items, kitchen, toiletries, tents and tarps, and accessories.
Once you have the items sorted, you'll need a place to keep them. We love heavy duty storage containers with locking lids and handles to grab and go.
Boost your organizing system by choosing uniform-colored bins that will only be used for your camping gear. You'll easily spot it apart from other storage bins.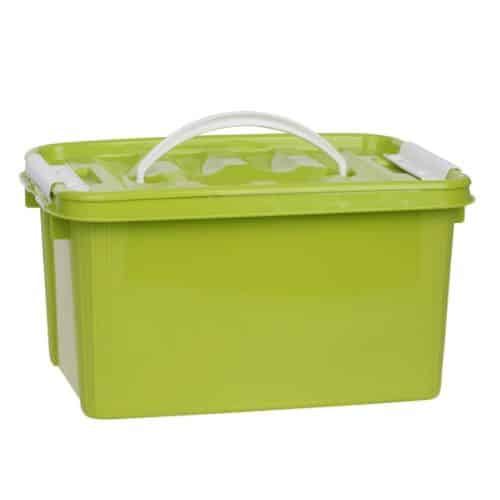 For heavier items, containers with wheels make the job of moving to and from the campsite much easier.
Bonus storage: take advantage of sneaky storage spaces, like an empty cooler for your kitchen items or dried goods.
Further organize your bins by using zip top reusable plastic bags or small bins for smaller groups of items, like utensils and toiletries, and store within large bins. It will keep items together and clean while in storage.
Finally, once you've separated your items into categories, label the bins using details of the contents. It will help you find what you need and help you put back everything in its place when you return from your trip.
Invest in a sturdy rack that can hold your bins in one place, storing lighter bins towards the top of the rack for easier accessibility.
Long poles and oars can be stored on hooks on pegboard or by fashioning a PVC tube that can be attached to the rack that allow them to be stored upright.
Camping gear storage best practices
Always clean and dry your gear before storing. Dirty gear will attract pests and damp gear will grow mold. A simple way to dry your tent is to set it up again when you get home in a dry area and allow it to dry before carefully storing again.
Some campers add silica desiccant to help trap moisture inside storage bins. You can find these packets in shoe boxes and many other packaging or purchase them online.
Your best bet to avoid condensation in your storage bins is to store in a cool, dry spot that has temperature regulation, like climate-controlled storage.
Bonus storage: if you use a day pack when you camp or for weekend fun, keep it packed with the essentials, then place on a hook so it's easy to grab-and-go!

Where is the best place to store camping gear?
Many people store their camping gear in the garage or shed, especially if it is used rarely. While it makes sense to keep 'outdoor' gear outdoors, it may not be the best choice in extending the use of your gear.
Most sheds and garages are not heated or cooled, causing big swings in temperature and humidity, especially if you're in a northern state climate.
Humidity can cause condensation in your bins leading to mold and rust. Garages and sheds are also easy targets for mice and insects looking for food and shelter.
Better options for storing camping gear are inside your home in a closet or basement storage room. If you are without extra space for storage in your home, consider storing some camping gear in your home that is the most susceptible to deterioration, like:
Clothing
Sleeping bag
Toiletries
Tents
Electronics
Metal equipment and tools
Ideally, you would store all your gear together and if that is not possible at your home, you might consider a storage unit in a climate-controlled facility. Storage units can come in quite handy for all your seasonal items, allowing you to switch out your items as the season demands.
Store your camping gear and lawn gear in the winter, and your holiday decorations and snow equipment in the summer.
Choose a storage facility that is near your home and has access hours that complement your lifestyle so you can get your gear when you want it.
Our locations in Natick, Framingham and Newton allow for self-storage unit access 365 days a year, including holidays. Contact us for advice on what type and size of storage unit would best fit your seasonal items.
---