How to Sell Your Things Online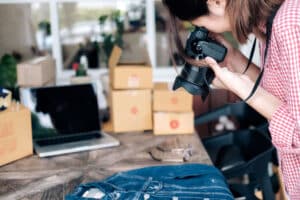 If you've been storing home furnishings, collectibles or other items for a while and have determined you no longer have a need for them, it's time to declutter. Some items may be past their prime and need to be discarded, while others may be great for donating. But, if your unwanted belongings are in good to excellent condition you may even be able to sell them! Rather than going through the hassle of finding enough items or time for a garage sale, try online selling. It has become a popular way to sell your gently used items. Here are some online selling tips to make the process a breeze.
Getting started
The first step is to organize items into groups. Items that sell well online include electronics, books, DVDs, high end clothing, collectibles, antiques and furniture. Specific items sell well on different platforms.
Where to list your online sale
Try eBay for electronics, high end clothing and collectibles. Amazon is great for books, DVDs and other media. Local listing websites, like Craigslist and Nextdoor, are best for furniture and other heavy or hard-to-ship items.
Find out when local garage sales are happening, and if you can, plan to post your items online at the same time. Some online selling sites have restrictions on what you can and cannot sell, so always check their guidelines so your posting does not get flagged for removal.
A picture speaks a thousand words
You only get one chance to make a first impression. Your online listing should always include a photo (except for Amazon which will automate a listing photograph). Be sure to take well lit, high quality photographs to accompany your online list. Use close up shots for intricate details, labels or imperfections that you plan on disclosing. Include photos that show different angles of your item, if appropriate. You don't need to invest in an expensive camera as today's mobile phones take high resolution photos and make picture uploads easy.
All the little details
Provide pertinent details for your items such as condition, size, color, age of item and brand name, if applicable. The more information you provide, the fewer questions you'll have to answer. It is important to disclose damages or imperfections so the purchaser is not surprised when they receive their item. Even if your item is not in perfect (or working) condition, you might be surprised that it will still sell. Damaged or non-working electronics sell well due to the desire for parts, for example.
Price it right
Your vintage comic book collection may be invaluable to you, but to another it may be worth much less. Research what similar items have sold for or search on the online seller's website for other listings. You'll want to price your items competitively so you aren't holding on to them for too long due to a high price.
Keep in mind the condition of your item as it compares to others on the market, as well as the supply available. Amazon holds you to a set price for your item, while eBay lets you choose a starting bid and a minimum price that you'll accept at the end of the auction.
If you are selling on a local platform and will be meeting people in person, be prepared for negotiation. When you create the listing, set a price a little higher than you might expect, then decide on a minimum amount that you would actually accept for the item, as the buyer will likely try to negotiate. If you don't get any responses from your listing, you can easily edit the price to attract more buyers.
Play it safe
Online sellers that broker the sale for you, like Amazon and eBay, have some safety and security measures in place to protect both buyers and sellers. Some of the risk of payment is alleviated with third party payment processors, like Paypal, that handle the transaction for you. That said, buyers can still request a refund if they believe they weren't sold exactly what they thought they were buying or were dissatisfied with the item. Be sure to read the full terms of service to understand your rights as a seller.
With local selling you'll want to be aware of your personal safety. Beware of anonymous types of responses that don't seem to have a real interest in your items or people who want to send you money right away to secure the item. Meet at a neutral, public place if you can, but if you must have the buyer at your home, arrange visits during times when you'll have others with you. Plan meetings for daylight hours and get the person's full name and cell phone number to arrange the time. Call or text them to confirm pick up details, which will help you verify the number is valid. Whenever possible, move the item into the garage or have it ready outside of your door so you don't need to invite the buyer into your home.
Not quite ready to part with all of your treasures but want them out of your house? EZ Storage has self storage units ranging from small 5 x 5 units to large 10 x 30 sizes to accommodate just a little or an entire household. Check out all of our storage options, including climate controlled storage.
---