How to Maximize Space in a Small Boston Home
Many of us are working from home, and some may find themselves feeling claustrophobic. Whether kids are schooling at home, adult children have returned, or the living room holds a newfound workspace, we want to help you maximize space in a small home. Discover how to maximize space in a small house with help from the storage experts at EZ Storage in Boston.
Tips and Tricks to Maximize Your Space
Maximizing space in a small house can be tricky, but with 45 years of experience in the industry, EZ Storage knows creative ways to maximize limited living space. Here are some helpful tips we've provided our customers with over the years.

Use full-size furniture
As counterintuitive as it may seem, using small furniture in small spaces can make the room feel cramped. Using full-sized pieces helps expand the room while hiding unappealing room elements, such as electrical cords. Full-size pieces can also offer full-sized drawers and cabinets to keep clutter out of sight.
Mix in multi-purpose furniture
Consider multi-purpose pieces to allow for less furniture without sacrificing utility when maximizing space in a small house. For example, a sofa with storage under the cushions is a great way to have a comfortable seating area while including usable space for storage. Nesting tables are another great way to tidy a space with tables that can stay together or be separated as needed.
Store your seasonal and sentimental items
If you're still short on storage after applying these tricks on how to maximize space in a small home, your best option might be a small self-storage unit. Store away seasonal items like winter clothes, holiday decorations, or yard and lawn tools. Choose a storage facility that is in close proximity to your home to make getting your items easy.
How to Make Your Space Look Larger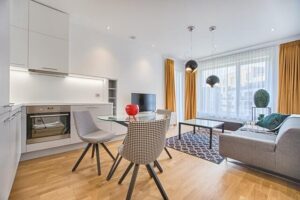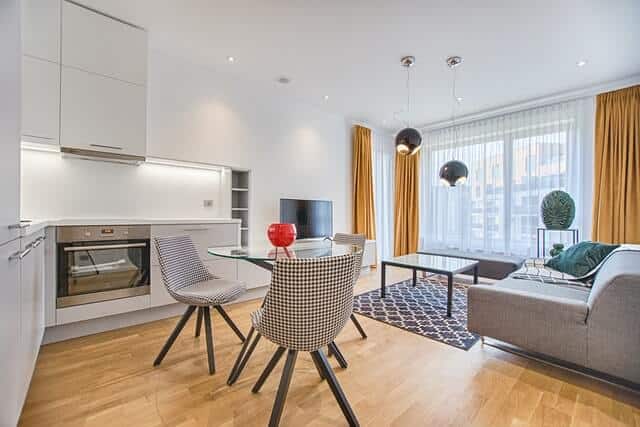 A creative way to maximize limited living space is by making your space appear larger. By creating the illusion of space, you're likely to feel less overwhelmed by your home and more comfortable relaxing in it.
Embrace a neutral color scheme
Choosing a neutral color scheme helps make the walls appear pushed back, keeping your space bright and airy. Don't consider beige, gray, and white as your only options. Using muted shades of green, blue, or blush can offer the same impact but with a new flair. Using overpowering colors often darkens a space, making the walls appear dominant and the area smaller. Mirrors can be strategically placed to bring in light, expand walls, and create a break in visual clutter.
Incorporate the right furniture
When maximizing space in a small house, consider exposed-leg furniture. Exposed-leg furniture is excellent for smaller spaces as it adds dimension and opens visual lines. Ideally, selecting pale colors over dark pieces and optioning for leggy pieces, glass tabletops, or furnishings you can see through help make a room seem less constrictive.
EZ Storage Can Help You Maximize Your Space
If you're running out of creative ways to maximize limited living space or if you want to tuck away seasonal items, consider household self-storage as a short or long-term solution. If you'll be storing furniture to reduce clutter, we recommend storing it in a climate-controlled storage unit to ensure your pieces are protected from warping due to temperature and humidity changes. Check out our three storage locations in Boston and let our managers help you find the right storage unit size to maximize your home's daily living space.
---