How to Create a Workspace at Home
Working from home has been increasingly more popular and possible for many residents of Boston and Massachusetts.
Whether temporary or permanent, creating a workspace at home for working, learning or studying can be daunting. You may be used to having your home be designated as a space to relax and get away from the outside world, so it can be hard to fully grasp how to organize a workspace at home that will keep you from getting distracted. We've compiled some helpful tips that are essential to the "WFH" lifestyle.
Creating a Workspace at Home That Will Keep You Productive
You don't just want any workspace when it comes to completing daily tasks, you want a space that will drive productivity and keep you focused. Follow these simple tips to help you take your temporary, makeshift home office or 'school room' to the next level and make a space in your home that supports productivity and makes your workday, or school day, fly by.
Find a real desk – If you're using a workspace in your home for everyday work or learning, you'll want more than a multi-purpose card table or TV tray. A sturdy desk that provides storage and surface room for your computer and other essentials will help you stay organized and more productive. As you are creating a workspace at home, add a floating file cabinet to store papers and files out of sight but close at hand to reduce clutter in your workspace. If you have to work with a smaller space when learning how to organize your workspace at home, it may feel overwhelming and impossible to find the right solutions, but there are many inexpensive and creative solutions—such as organizers and cheap shelving. Don't forget to check out local thrift shops and online community marketplaces, like Facebook, Craigslist or Nextdoor for gently used options that won't break the bank.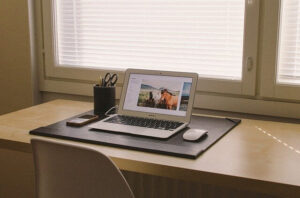 Make space work for you – Carve out space in your home that is conducive to productivity and allows for professional video conferencing and phone calls. Turn that rarely used guest room into a home office or create a space in your bedroom that can become a private area devoid of distractions. Use freestanding screens to make the space feel more separated if you'll be creating a multi-purpose room or sharing your space with another worker or learner in your family.
Treat your seat! – When creating a workspace at home, don't skimp on your chair. Invest in an office chair that sits at the right height at your desk and in front of your computer (the top of your computer screen should be at eye level). Ergonomic chairs will help fight fatigue and stress in your body when you're sitting for long periods of time. If you recently transitioned to working from home and are still learning how to create a workspace at home, ask your employer if you can bring your office chair home with you. An alternative to traditional office chairs is stability balls. They can help strengthen your core or settle your wiggles while sitting——just make sure it sits at the right height for your desk!
EZ Storage Can Help You Maximize Your Space
If you need to make room in your home to create the perfect home office or learning space, consider self storage as a short or long term solution. We recommend storing wood furniture in climate controlled storage to make sure your pieces are protected from warping caused by temperature and humidity swings. Check out our three storage locations in Boston and let our managers help you find the right storage unit size to make room for your new workspace.
---