A Guide to Motorcycle Storage: Our Most Frequently Asked Questions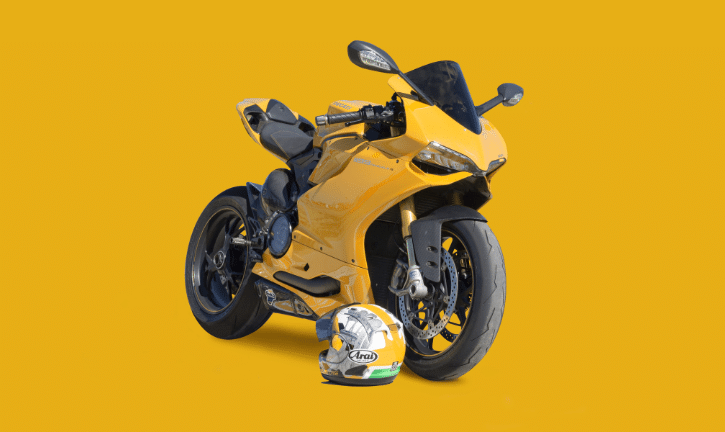 Motorcycle storage isn't just for "garage queens." Motorcycle storage is also very practical, especially for Massachusetts riders.
When the summer riding months wind down, we all have to figure out how to store a motorcycle until we can ride them again. Storing them outside even with a cover leaves them vulnerable to the elements causing corrosion to the engine and the body. It also puts your motorcycles at risk for theft.
Even if you have a garage, with our cold, wet winters in Massachusetts, you need that valuable garage space for your vehicles
Common FAQs About Motorcycle Storage Answered
If you're a new motorcycle owner or have never stored your motorcycle before, you may have a lot of questions about how to store a motorcycle.
Here are answers to the top frequently asked questions about motorcycle storage.
What Is The Recommended Unit Size For Storing A Motorcycle?
The recommended size of the motorcycle unit depends on the type of motorcycle and if you want to store motorcycle items like spare parts, helmets, and tools.
For most motorcycles, 5' x10' storage units are perfect. However, for larger bikes like a Harley Davidson CVO or Honda Goldwing, trikes, or a lot of gear, you may need a large storage unit of 10' x 10' or 10' x 15'.
Do I Need Climate-Controlled Storage For My Motorcycle?
You do not need a climate-control storage unit for a motorcycle, but there are some serious advantages to having one.
When vehicles are exposed to extreme temperatures like heat and cold, it can impact their performance. This can lead to damage and shorten the life of your vehicle depending on the circumstances of the storage type.
If you are just putting your motorcycle in self-storage for a few months and have prepped it correctly, then you'll be fine without it.
However, if you'll be storing long term or have a rare collectible or vintage motorcycle, you definitely want to protect it with climate controlled storage.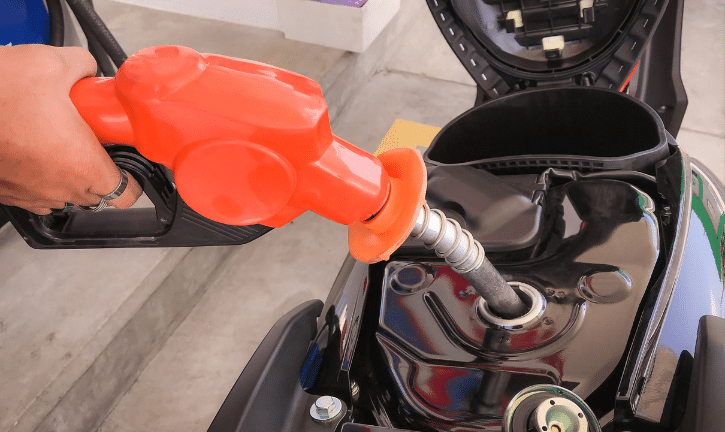 Do I Have To Empty The Gas Tank Before Putting My Motorcycle In Storage?
No, you actually want to fill the tank completely full before putting it in storage. In fact, you should always top off all your vehicle's fluids.
Empty or low tanks attract condensation and moisture buildup during temperature shifts. This leads to water corroding the tank, the lines, and eventually damaging the engine.
Water can also cause damage to the engine in temperature shifts, especially if it freezes.
How Long Can Gas Sit In A Motorcycle Tank?
Gas does have a shelf life. When it sits for too long it can destabilize which can lead to damage to the vehicle. You should not leave unstabilized gas in a tank for more than 30 days. After that time it will become destabilized. However, you can add a fuel stabilizer that will ensure your gas can sit for up to six months.
Keep reading to learn more about fuel stabilizers for your motorcycle.
Should You Add A Fuel Stabilizer To Your Motorcycle Tank Before Storage?
Yes, you should add a fuel stabilizer to your motorcycle tank before storage.
Unstabilized gas only lasts 30 days before it begins to destabilize and break down. Adding a fuel stabilizer protects gas from destabilizing for six months, helping you avoid any potential damage.
Talk to your mechanic or consult your motorcycle manual about which fuel stabilizer is right for your motorcycle and how to add it to the tank.
How Long Can A Motorcycle Sit Without Being Used?
Generally, a motorcycle can sit for about a month without someone riding it. However, any longer than that requires it to be properly prepared for storage. If you've never prepared your motorcycle for storage, we have a helpful guide on how to store a motorcycle on our website.
When properly prepared and stored, a motorcycle can sit for up to 24 months without being ridden.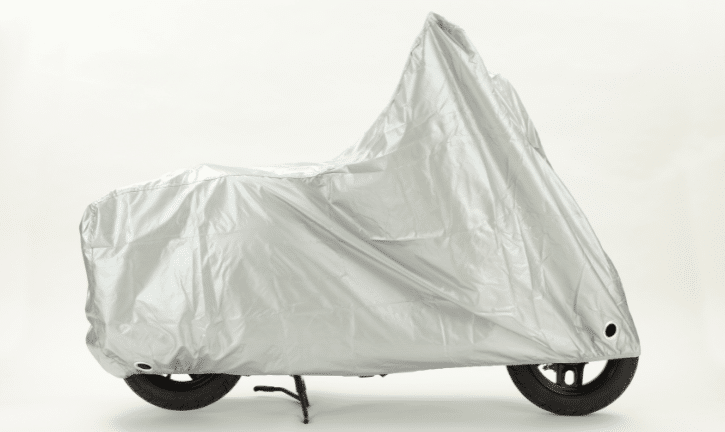 Should I Cover My Motorcycle While In Storage?
We recommend covering motorcycles in storage, even in climate control units. That is mostly just because it will prevent any dust from settling on your vehicle. Dust isn't a huge problem but over long periods, it can build up and cause clogs.
It is best to always cover your vehicles in storage to save the trouble of dealing with dust.
Should I Insure My Motorcycle If I'm Not Driving It?
In the state of Massachusetts, you have three options when storing a motorcycle:
1. Keep the vehicle registered with the state and insured
2. Cancel the state registration and keep the vehicle insurance
3. Cancel the state registration and the insurance
If it wasn't a requirement for all registered Massachusetts vehicles, it would still be a good idea to keep your vehicles insured. Self-storage units are safe but there are always risks of unpreventable, weather-related incidents. Plus, the facility's insurance does not cover tenants' contents.
As they say, better safe than sorry.
How Much Does It Cost To Store A Motorcycle?
Motorcycle self-storage is affordable and of great value to help keep your bike in top shape when not in use.
The rates depend on what size and type of unit you get. Smaller units like 5'x10' that fit most motorcycles are more affordable than larger 10' x 15' units. It also depends on if you choose a garage-style unit or indoor unit and whether that unit has climate control.
Finally, it also depends on how long you plan to store your bike.
---
Whether you need a climate-controlled palace to safely house your prized Harley-Davidson XR750 or just a place to park your Kawasaki Z1000SX for the winter, self-storage is a great option.
It will keep your motorcycle out of the elements and leave more space in your garage.
Fill out our contact form to get started to receive a coupon for your storage unit rental.
---